Howdy! So Jahner needed a cover tonight as he was interviewing Felicia Day, so I decided to grab the slot and do a Hip Hop show!
We decided to have the party at Drozana station at the Dabo table.  Always an abundance of familiar faces and friends there.  The party started out rather slow, but by about half way we had about 15-20 people down there.  It was a lot of fun.
We covered the new Time Ships for Fed and KDF Sides.
The one that looks the most interesting to me is:  (Taken from the Star Trek Online Season  6 Blog.  No copyright infringement intended.)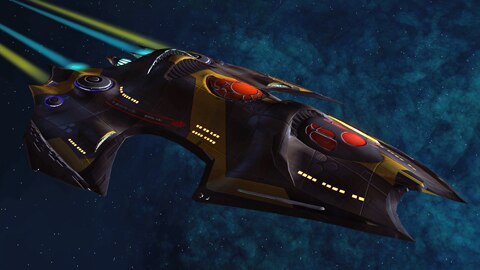 Mobius Temporal Destroyer (Mirror Universe)
Mobius Class Temporal Destroyers appear to be similar to the Federation Timeship encountered by Captain Kathryn Janeway. Unlike the Wells Class, however, these ships appear to be from the Mirror Universe, and as mirror universe ships, it is not surprising they seem to be built more for combat, than for protecting the timeline.
The Mobius Class Temporal Destroyer comes with a Manheim Device Universal console module. This console is based on Dr. Paul Manheim's time-gravity work in the early and mid-24th century. His experiments caused ripples in time, now called the Manheim Effect. The Manheim Device console can create quantum duplicates of yourself — one from your past and one from your future.
The Manheim Device is part of a set, and can be used on any Timeship, including the Wells, Mobius, Korath, Krenn, Aeon or Rozhenko class vessels. If you have the Manheim Device and the Tipler Cylinder console equipped, activating Temporal Backstep will also cause all nearby foes to freeze in time until the sequence has ended.
Faction: Federation
Rank Required: Rear Admiral
Availability: Lobi Store
Hull Strength: 33,000
Shield Modifier: 1.05
Crew: 250
Weapons: 4 Fore, 3 Aft
Device Slots: 2
Bridge Officer Stations: 1 Universal Lieutenant, 1 Universal Lieutenant Commander, 1 Lieutenant Tactical, 1 Commander Tactical, 1 Ensign Engineering
Console Modifications: 4 Tactical, 2 Engineering, 4 Science
Base Turn Rate: 15 degrees per second
Impulse Modifier: 0.2
Can equip Cannons
+10 Weapon Power, +5 Auxiliary Power
Console – Universal – Manheim Device
I.S.S. Registry Name Prefix Option
NCV Registry Number Prefix Option
Other than that, we mainly just had a good old time chatting, and dancing.  Here is the playlist for the show for those interested!
#EXTINF:314,Subspace Radio – Transition
#EXTINF:17,Gaming Radio Network – This Show is Rated PA 16
#EXTINF:20,Dr. Isabella McTigger – Station ID
#EXTINF:360,Peter "aCe" Spalding – Alien Nation 3.0 Intro
#EXTINF:16,DJ aCe – Hip Hop Collection on SSR
#EXTINF:217,Notorious B.I.G – Party And Bullshit
#EXTINF:302,2Pac – Life Goes On
#EXTINF:359,50 Cent Feat. Lil' Kim – Magic Stick
#EXTINF:257,MC Lyte Feat. Xscape – Keep On Keepin' On
#EXTINF:35,Chad the Orion Slave Girl? Nope. – Alien Nation 3.0 ID (Tarrak)
#EXTINF:231,Kevin Rudolf Featuring Lil Wayne – Let It Rock
#EXTINF:248,Eminem – Not Afraid
#EXTINF:162,Dr. Dre – The Next Episode
#EXTINF:263,Ying Yang Twins Feat. Wyclef Jean – Dangerous
#EXTINF:192,Beastie Boys – Ch-Check It Out
#EXTINF:145,George Kane – Guardians of Democracy Fleet
#EXTINF:236,Big Punisher – Stilll Not A Player (feat. Jo
#EXTINF:280,036 – Bubba Sparks ft. Ying Yang Twins – Ms. New Booty
#EXTINF:242,Biz Markie – Just A Friend
#EXTINF:315,DJ Jhen – Subspace Radio Gag Reel 4.0
#EXTINF:60,George Kane – Starfinder Teaser
#EXTINF:17,Gaming Radio Network – This Show is Rated PA 16
#EXTINF:73,DJ's Raidur, Jhen, Yumene, Tanner – Thanks For Donating (TribbleCouch)
#EXTINF:231,Kevin Rudolf Featuring Lil Wayne – Let It Rock
#EXTINF:252,Ini Kamoze – Here Comes The Hotstepper
#EXTINF:229,Bone Thugs-N-Harmony – The Crossroads
#EXTINF:221,Lil Bow Wow – Bow Wow (Thats My Name)
#EXTINF:212,Busta Rhymes – Bounce Around
#EXTINF:216,Crazy Town – Butterfly
#EXTINF:232,Fu-Schnickens – What's Up Doc? (Can We Rock)
#EXTINF:231,Kevin Rudolf Featuring Lil Wayne – Let It Rock
#EXTINF:269,Coolio – Fantastic Voyage [Timber Mix]
#EXTINF:291,Kris Kross & Super Cat – Jump
#EXTINF:217,House of Pain – Jump Around
#EXTINF:213,Cypress Hill – Insane In The Brain
#EXTINF:35,Chad the Orion Slave Girl? Nope. – Alien Nation 3.0 ID (Tarrak)
#EXTINF:237,Insane Clown Posse – Hokus Pokus [Headhunta'z Remix]
#EXTINF:231,Kevin Rudolf Featuring Lil Wayne – Let It Rock
#EXTINF:220,Funkdoobiest – Where's It At
#EXTINF:202,mc chris – Fett's Vett
#EXTINF:267,LL Cool J – Headsprung
#EXTINF:180,DF Dub – Country Girl
#EXTINF:234,Snoop Dogg Feat. Xzibit – Bitch Please
#EXTINF:285,Naughty by Nature/Pink – What You Wanna Do
#EXTINF:219,PSY – Gangnam Style
#EXTINF:299,Lil Wayne Ft. Static Major – Lollipop (Produced By Jim Jonsin & Deezle)
#EXTINF:205,Flo-Rida feat. Kesha – Right Round
#EXTINF:257,Mystikal – Shake Ya Ass
#EXTINF:231,Petey Pablo – Freek-A-Leek
#EXTINF:336,Lil Jon & The East Side Boyz Feat. Ying Yang Twins – Get Low
#EXTINF:248,Salt-N-Pepa – Shoop
#EXTINF:252,Ice Cube – Right Here Right Now feat Paul Oakenfold
#EXTINF:258,B Real,Method Man,LL,Busta, – Hit Em High
#EXTINF:234,Limp Bizkit Feat. Method Man – N 2 Together Now
#EXTINF:245,Puff Daddy – I'll Be Missing You
#EXTINF:314,Subspace Radio – Transition